Stories written by Clay McLeod Chapman. Performed by Chapman and Hanna Cheek.
(1996-present)
Celebrating its second decade of performances, the Pumpkin Pie Show is a literary fist in the face. Part storytelling session, part boxing match, part shamanistic ritual, the Pumpkin Pie Show has established itself as an all-points artistic hodgepodge of theatre and literature. We pick and choose the essentials of both mediums, channeling their rocking properties in order to create a more intimate relationship between performer and audience. We want to see the whites of our audience's eyes. Certain basic rules that we've set up for all our shows are: No sets. No costumes. No nothing beyond the text and the performance itself. Our goal is to strip away those elements that we find extraneous to the tale being told, conjuring up an atmosphere of "creating something out of nothing," as well as focusing on that ethereal connective tissue between the one telling the story and our audience. Packed with enough emotional intensity to feel like a rock concert rather than just spinning a yarn, the Pumpkin Pie Show is pure bedtime stories for adults.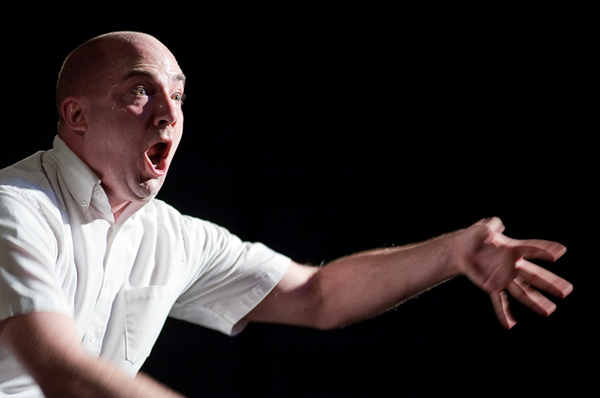 The Pumpkin Pie Show continues to perform in New York City—including such venues as PS 122, the DR2 theatre, the Ohio Theatre, La Mama, the Red Room, the Kraine theatre, UNDER St. Marks Theatre, the CSV Cultural Center, the Zipper Theatre, the Belt theatre, Culture Project, Galapagos Art Space, Speigeltent NY, Bowery Poetry Club, the Brick Theatre, and Coney Island.
Coverage: "The Pumpkin Pie Show, Night of the Voting Dead," New York Times, October 2016
"The Pie's Piper," Time Out New York, October 2001
"Underneath the Horror, Evidence of Some Heart," New York Times, October 2008
Events
Related Blog Post
"A taste of Southern Fried American Gothic that will send shivers down your spine."
– Time Out New York